Many think of advocacy as traveling to Washington DC and speaking to their Senators and members of Congress, convincing them to pass legislation like the STAR Act. While this is an essential part of advocacy, there are many things that you can do within your state that do not involve travel or engaging politicians.
Ann Ramer presented opportunities for connecting with your local Childhood Cancer Community and highlighted the available tools on the CAC2 member page to support your effort.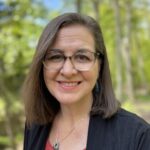 Ann Ramer, MPH
Ann is a mother of four children, two of whom developed multiple forms of cancer. She is a CAC2 board member and active childhood cancer advocate with extensive experience in health advocacy that is specific to pediatric and adolescent cancer at the local, state, and national levels. Employed by the Ohio Department of Health, Ann works on the state's comprehensive cancer control plan.